https://www.youtube.com/watch?v=mZ572sM2wA0
My latest film 'Talking to My Father' was funded by the Arts Council's – REEL ART Scheme and premiered at the Dublin Film Festival 2015. To date it has had a cinema run at the Irish Film Institute screened at the American Architecture and Design Film Festival, Cork Film Festival and the Festival International du Film sur L'Art in Montreal.
The film 'Talking to My Father' came about through an unusual set of events. The architect Simon Walker  shared office space with my production company Loopline Film.Over the years we had endless conversations about the golden era of modernism in Ireland and I wanted to make a film with Simon at the helm that explored this era. I filmed sequences with Simon explaining how architecture and art was used by the government of the day as a kind of branding of modern Ireland. I intended the starting point to the time  Michael Scott erected an elaborate pavilion for the New York World's Fair in 1939 as a symbol of a new, modern Ireland. Then I discovered the film I actually wanted to make was elsewhere!
Loopline Film offices in Lad Lane Dublin closed after our landlord lost his shirt during the banking crisis. One of the rooms in Lad Lane was rented by my friend the architect Simon Walker. We found much smaller premises on Baggot Street and when Simon moved in I saw that he had boxes and boxes of architectural documents relating to the life's work of his father Robin Walker.  He filled me in about Robins life as a young architect, which included studying with Le Corbusier in Paris and a stint working alongside Mies van der Rohe in Chicago before returning home to Ireland in the late Fifties to work alongside Michael Scott who later made him a partner in Scott Tallon Walker. Scott Tallon Walker were at the forefront of Irelands rapid expansion after years of austerity and emigration.
As a partner in Scott Tallon Walker, Robin Walker became a key agent in this nation-building process. The film accompanies Robin's son Simon, also an architect, on an exploration of some of the most interesting and iconic public and private buildings produced during this rich period of cultural optimism and civic idealism. Simon though a great admirer of his Fathers legacy also remembered with sadness the early seventies when his Father withdrew from the world of architecture and to some extent his family.
I was intrigued and began to think of how this might become a film. Our conversations became the basis for a short pilot I made for a submission to the Irish Arts Council's – Reel Art Scheme. For the pilot I suggested that Simon write a letter to Robin and this devise worked so well that the film became a reality.
The first filming took place in Bothar Bui the beautiful villa Robin built for his family on the wild Beara Pennisula in Southwest Cork.  Simon's sister Sara looks after Bothar Bui and maintains its upkeep by renting it out. It is a very popular destination for artists and architects and for a few weeks the Walkers and their many friends and an army of young children inhabit this paradise. The magic of this wonderful architectural masterpiece was captured in all its glory by my longtime cinematographer Paddy Jordan.
The thread of Simon's letter was the conduit for the films journey into Robins architectural legacy . As we began our journey to film Robin's work, Simon told how his Fathers functional approach to architecture did not appeal to some and controversy dogged his early buildings like the 'Opera House' in Cork and his 'Bord Failte Headquarters' in Dublin. In one scene Simon took his students to the now empty 'Bord Failte' building and shed light on Robin's intent to create harmony between his creation and the Georgian buildings that surrounded it.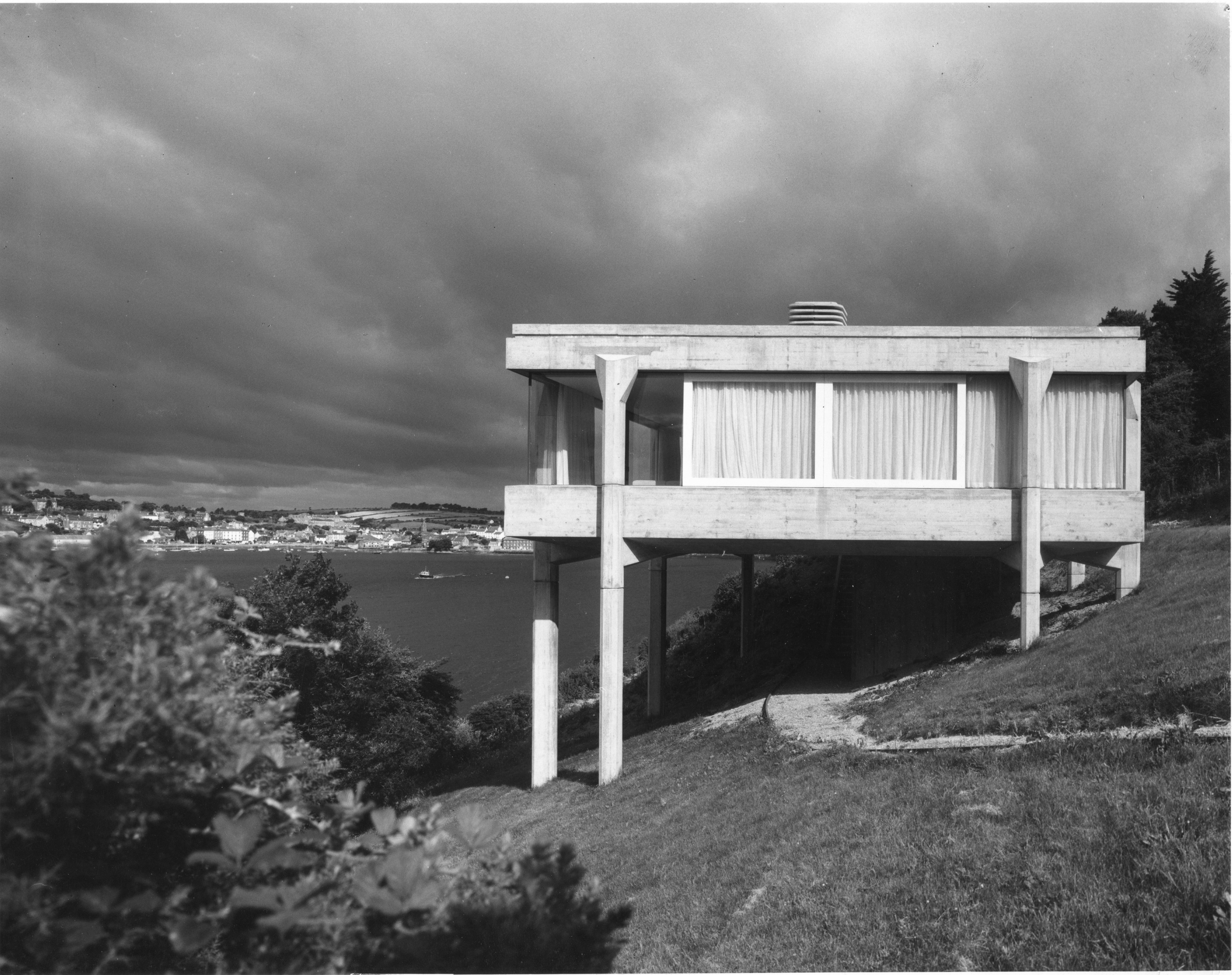 This core tenet of Robin's approach to site is stunningly demonstrated in our sequence at 'The Weekend House' in Kinsale. This modernist masterpiece stands on pillars overlooking Kinsale Harbour.  The house went through a period of decline until the Healy family bought it and set about restoring it to Robin's original design. Ironically they chose Simon Walker to oversee the work and this led to one of the best scenes in the film.
Simon's journey unearthed many other magical architectural encounters with his Fathers legacy. He conveys how Robins Open Volume plan for the Restaurant at UCD has been blocked up with partitions and his radical plan for the students to sense freedom in the building is now sadly obliterated. The same image is conveyed when Simon visits Robin's Art Building at Maynooth College. The building once sat like a jewel on the landscape but is now unloved and uncared for and can hardly be recognised as it is swamped by new ugly structures all round. Robin's clarity of design can still be seen in all its glory when we witness Saint Columba's Science Block and his campus at Wesley College.
Robin's withdrawal from architecture coincided with the oil crisis of the early seventies when the ideals and ideas of the Moderns was abandoned for a more speculative approach to public buildings. Robin left the stage and concentrated on writing which are conveyed throughout the film by readings from the actor Patrick Bergin.
I designed the film as a lone journey by Simon into his Fathers life and I deliberately avoided 'Talking Head' interviews and let the buildings speak for themselves. The original music composed by Stano and the haunting Soundscape by Philippe Faujas fuelled the magical atmosphere of the film. We were also gifted to be able to feature the great poet Seamus Heaney recite his poem 'An Architect' which he wrote after Robin's passing as a gift to  his wife Dorothy Walker. The films primary focus was  to bring out the human story of Simon reaching across two eras to understand his Fathers work and to mirror his own feelings about how todays society is willing to let these buildings disappear as if they have no value.  I hope this film helps to highlight the important work that Robin and his contemporaries have contributed in Irelands first major beginnings in Nation Building.
Director: Sé Merry Doyle (Films inlcude: John Ford – Dreaming the Quiet Man; Patrick Kavanagh – No Man's Fool; Patrick Scott – Golden Boy; Kathleen Lynn – The Rebel Doctor; Alive Alive O – A Requiem for Dublin; Jimmy Murikami – Non Alien)
Script: Simon Walker
Cinematography: Patrick Jordan
Music: Stano
Voice of Robin Walker: Patrick Bergin
Producers: Andrea Pitt and Sasha King
Duration: 90 Minutes
Funded by: Reel Art
A Loopline Film
Contact se@loopline.com